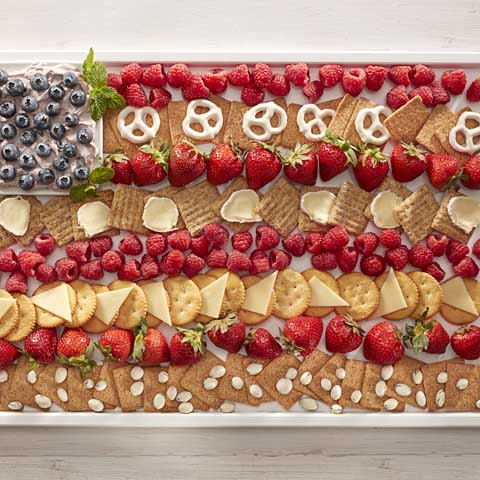 US Flag Fruit and Cheese Board
This patriotic flag appetizer will be the hit of your party, featuring stripes of red berries, blueberry stars plus cheese, crackers and sweet treats.
Servings
Makes 16 servings.
Ingredients
Strawberries, raspberries and blueberries
RITZ Crackers, TRISCUIT Crackers and WHEAT THINS Big Snacks
White cheddar cheese
Brie cheeselog
Blueberry yogurt or cream cheese spread
Yogurt-covered raisins
White fudge-covered pretzels
Fresh mint sprigs
Preparation
Place

strawberries, raspberries and crackers in alternating rows on wooden board or tray as shown for stripes on flag. Add slices of cheddar and brie between crackers, and rows of raisins and pretzels for white color. Place small bowl of yogurt in top left corner; top with blueberries for stars. Garnish with mint.

This

fruit and cheese board can be tailored to any number of servings, depending on the size of your gathering. Use a guideline of 2 Tbsp. yogurt, 1/2 oz. EACH raisins and pretzels, and 1 oz. EACH cheese and crackers (or labeled serving size)* per serving. For a well-balanced board, fill in empty spaces with berries. For the 16 servings shown here, figure on purchasing 16 oz. cheese, 2 cups yogurt and 8 oz. EACH raisins and pretzels. Have plenty of RITZ Crackers, TRISCUIT Crackers and WHEAT THINS Big Snacks for topping and dipping, along with the berries. **Serving size of RITZ Crackers is 1/2 oz.
Recipe Tips
Special Extra


Have a few other dips available, such as vanilla pudding, hot fudge or raspberry jam.
321185
You May Also Enjoy: