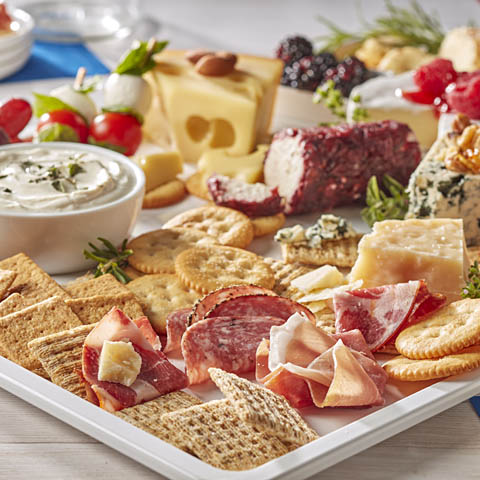 Patriotic Cheese and Meat Board
Make a delicious charcuterie board featuring red, white and blue fruits, vegetables, cheeses, crackers and meats for the best 4th of July appetizer!
Servings
Makes 16 servings.
Ingredients
Thinly sliced prosciutto, salami and soppressata
Ciliegine fresh mozzarella balls in water
Nut-covered white cheddar cheese log
Cranberry-covered goat cheese log
Jarlsberg, Brie, Parmesan and blue cheeses
Prepared garlic and herb dip or spread
Seedless red and purple grapes
Drained marinated mixed olives
Mixed nuts
Fresh berries, such as strawberries, blueberries and blackberries
RITZ Crackers, TRISCUIT Crackers and WHEAT THINS Big Snacks
Fresh herbs, such as rosemary, basil and thyme
Preparation
Arrange

meats and cheeses on large board or platter. Fill in spaces with small bunches of grapes, berries, and bowls of dip, olives and nuts. Add crackers. Serve additional crackers in bowls or baskets next to the board.

Meat

and cheese boards can be prepared for any number of servings, depending on the size of the gathering. Use a guideline of 1 oz. cheese, 2 Tbsp. dip, 1/2 oz. meat and 1 oz. (or labeled serving size) of crackers* per person. For a well-balanced board, fill in empty spaces on board with fruit. For the 16 servings shown here, figure on purchasing 1 lb. of cheese, 2 cups dip and 1/2 lb. of thinly sliced meat. Have plenty of RITZ Crackers, TRISCUIT Crackers and WHEAT THINS Snacks available for guests to choose from, along with the fruit.  *Serving size of RITZ Crackers is 1/2 oz. 
Recipe Tips
Make it Special


Mozzarella balls can be skewered onto wooden or bamboo picks along with cherry or grape tomatoes and fresh basil leaves. Or try mozzarella with berries and mint for a sweet taste. Top brie wheel with raspberry jam and herb dip with chopped herbs for a burst of color. Cut a few stars from thinly sliced Jarlsberg cheese and place around board.

Vary the Cheeses and Meats


For a more interesting board, serve 3 or 4 varieties of cheeses with a variety of textures, shapes and flavors. Soft, semi-soft and firm cheese; cubes, slices, logs and wedges all add more interest. For best flavor, let the cheeses sit for about 15 min. at room temperature before serving. If serving a wedge or full piece of cheese, be sure to place a knife on the board for each variety of cheese you are serving. Meats can be rolled or just laid out flat. Salami is commonly available in mild, spicy or pepper-encrusted slices.

Make it Simple


Thinly sliced meats, such as these shown in the photo, can often be purchased in an assortment package found in the deli or cheese departments of your supermarket. Check out the store's olive bar for different types of marinated olives, such as those flavored with crushed red pepper or herbs.
321193