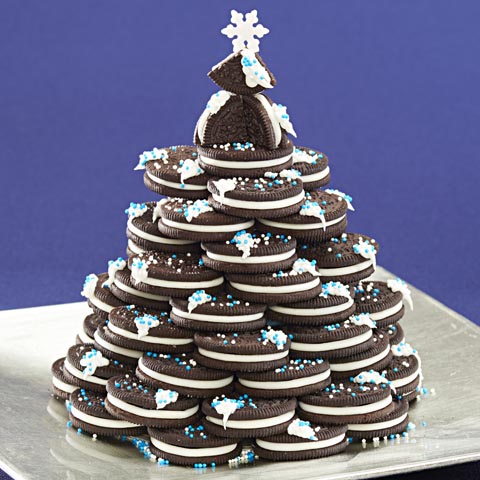 OREO Holiday Tree Centerpiece
Want a Christmas centerpiece that is fun to make? Creatively stacking cookies with melted chocolate and sprinkles makes it happen!
Servings
Makes 1 centerpiece.
Ingredients
63 OREO Cookies, divided
1½ pkg. (4 oz. each) semi-sweet baking chocolate (6 oz.), melted
4 oz. white candy coating wafers, melted
Decorations: Assorted holiday sprinkles, nonpareils or small candies
Preparation
Cut

4 cookies in half, then cut 1 of the cookie halves in half and 1 of the remaining whole cookies into quarters. (You will have 7 cookie halves, 6 cookie quarters and 58 whole cookies.)

Arrange

9 whole cookies in 7-inch circle on plate, securing to plate with some of the melted chocolate. Place 2 whole cookies and 2 cookie halves in center of circle. Repeat to make second layer of cookies, using 9 cookies to make a slightly smaller circle off center from first layer and filling center of circle with 2 whole cookies and 2 cookie halves, dipping bottom of each cookie in small amount of melted chocolate before using as directed.

Dip

bottoms of 7 cookies, 1 at a time, into melted chocolate, then use to make third layer of cookies, making circle slightly smaller than in the previous layer of cookies. Dip bottom of additional cookie in chocolate; place in center of circle. Repeat to make a fourth layer of cookies, using 7 cookies to make a slightly smaller circle with 1 whole cookie in the center of circle.

Repeat

to make 2 more layers, using 5 whole cookies to make each circle and placing 1/4 of a cookie in center of each circle. Top with 3 more layers, using 3 cookies to make circle for each layer.

Dip

3 cookie halves in melted chocolate, then place, rounded sides out, on top of stack to form small circle; top with 1 whole cookie in center. Stand 3 quartered cookie pieces on top of whole cookie as shown in photo, securing pieces to whole cookie with melted chocolate. Stand 1 quartered cookie piece, rounded side down, on top.

Spread

about half of the melted white candy coating onto exposed sides of cookies to resemble fallen snow.

Spoon

remaining melted white candy coating into decorating bag fitted with small star tip. Use to add icicles to the tree. Add decorations as desired, securing pieces to tree with remaining melted white candy coating. Let stand 1-1/2 to 2 hours or until candy coating is firm.
Recipe Tips
Note


You will need to purchase 2 pkg. OREO Cookies to make this centerpiece.

Important Note


If melted chocolate or candy melts becomes too firm to work with, reheat in microwave 10 to 15 sec. or until of desired consistency when stirred.

Substitute


Substitute ready-to-use white frosting for the melted white candy melts.
194472