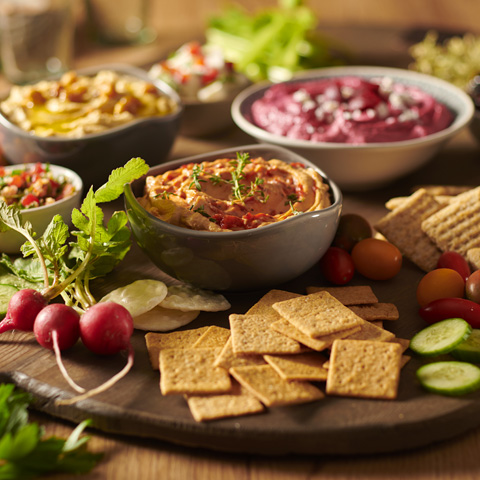 Hummus Party Platter
Looking for a meatless charcuterie board for your next party? This idea combines creamy dips, delicious salads and snack bites to give lots of choices.
Servings
Makes 16 servings.
Ingredients
Plain hummus, roasted red pepper hummus and beet hummus
Assorted fresh vegetables, such as radishes, grape tomatoes, baby carrots, celery sticks, sliced cucumbers and sliced cooked beets
Assorted prepared Mediterranean salads, such as tabbouleh, couscous and lentil salad
Prepared tzatziki
Assorted olives
Marinated cubed feta cheese
WHEAT THINS Original Snacks, TRISCUIT Crackers and GOOD THINS Simply Salt Rice Snacks
Preparation
Arrange

bowls of hummus, salads, tzatziki, olives and marinated feta cheese on large platter or board. Fill in between bowls with cut-up fresh vegetables. Add crackers and snacks, placing in several spots on board and in bowls or baskets.

This

hummus platter can be tailored to any number of servings, depending on the size of your gathering. Use a guideline of 2 Tbsp. hummus, 1/4 cup salad, 1 Tbsp. tzatziki, a few small olives and 1 oz. EACH cheese and crackers per serving. For a well balanced board, fill in empty spaces with fresh vegetables. For the 16 servings shown here, figure on purchasing 2 cups hummus, 4 cups salads, 1 cup tzatziki, and 8 oz. olives. Have plenty of WHEAT THINS Original Snacks, TRISCUIT Crackers and GOOD THINS Simply Salt Rice Snacks for dipping, along with the veggies.
Recipe Tips
Special Extra


Top beet hummus with a few beet slices and some crumbled feta cheese. Sprinkle a few roasted chickpeas (garbanzo beans), some fresh thyme and a drizzle of extra virgin olive oil on the plain hummus. To roast chick peas, heat oven to 375°F. Rinse 1 can (15 oz.) chickpeas; drain, then pat dry with paper towels. Remove and discard any loose skins. Toss with 3 Tbsp. olive oil; spread onto foil-covered rimmed baking sheet. Bake 45 to 55 min. or until chickpeas are crunchy, stirring occasionally. Add 1/4 tsp. salt and 2 tsp. of your favorite combination of dry seasonings, such as garlic powder, ground cumin and/or ground red pepper (cayenne); stir to evenly coat chickpeas with seasoning mixture. Spread into even layer on baking sheet; cool completely.

To Make Your Own Marinated Feta Cheese


Cut 8 oz. feta cheese into 1/2-inch cubes; pat dry with paper towels. Grate peel from 1 lemon; place in 2-cup covered container or jar with lid. Add 2 Tbsp. chopped fresh parsley, 1 Tbsp. finely chopped red peppers, 2 sprigs rosemary, and 1 tsp. whole rainbow peppercorns; stir. Add feta cheese and enough extra-virgin olive oil to cover all ingredients completely; cover with lid. Refrigerate overnight or up to 1 week. Bring to room temperature before serving.

Special Extra


Garnish filled platter with small Bibb lettuce leaves, fresh herbs and lemon slices.
320916
You May Also Enjoy: