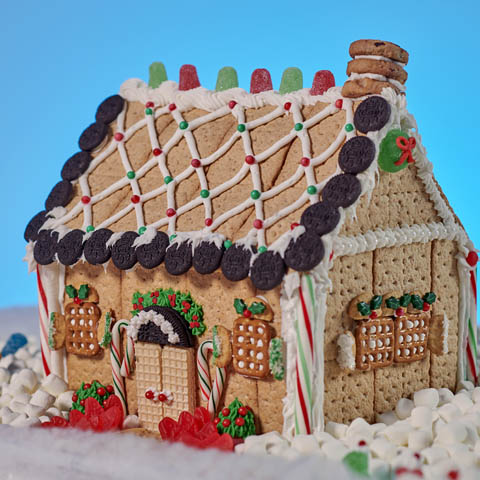 HONEY MAID Holiday House
Skip the baking and build your Christmas gingerbread house using graham crackers for the easiest house ever. Try these directions for an adorable cottage!
Ingredients
HONEY MAID Honey Grahams (See Important Notes tip.)
2 containers (16 oz. each) ready-to-spread white frosting
4 candy canes (5-1/2 inch)
2 BISCO Sugar Wafers
2 small candy canes (3 inch)
1 OREO Cookie, cut in half
24 NUTTER BUTTER Cookie Bites, divided
10 pretzel squares
Decorations: Assorted small green and red candies; large gumdrops; holiday sprinkles and sugars; green and red decorating icings
3 Mini CHIPS AHOY! Chocolate Chip Cookies
18 Mini OREO Cookies, split
3 EACH small green and red gumdrops
20 SWEDISH FISH Mini Candies
Preparation
Stack

2 empty 14.4-oz. boxes of HONEY MAID Graham Crackers to form 7-3/4 x 5-1/4-inch rectangle; cover with foil and secure with tape. (This will serve as the frame of the house.) Place on sturdy base of stiff cardboard or foam core.

Use

12 grahams to cover front, back and sides of house frame, cutting grahams as necessary to fit and using frosting to secure grahams to house.

Place

1 unopened sleeve of grahams horizontally on center of top of house; secure with tape. (This will be used to support the roof.) Use 8 grahams to make roof, securing grahams with some of the remaining frosting.

Spoon

about 1/2 cup frosting into pastry bag fitted with round tip; use to pipe frosting down center of roof top. Trim corners off 2 grahams to fit in spaces where roof and sides meet; attach to roof and house with frosting. Cut 1 graham to fit above the 2 trimmed grahams; attach with frosting. Let stand 1 hour or until frosting is dry.

Cut

curved end off each 5-1/2-inch candy cane; discard. Use pastry bag fitted with medium star tip to pipe frosting lengthwise down 4 corners of house. Gently press trimmed candy cane sticks into frosting. Use frosting to attach sugar wafers to front of house for the door, chocolate sandwich cookie half above door and small candy canes to sides of door.

Split

8 mini peanut butter cookies in half, then cut split cookies crosswise in half. Attach pretzels to front, back and sides of house with frosting for the windows; attach cut peanut butter cookies around windows for shutters and awnings as shown in photo. Decorate door and windows with small candies, sprinkles and/or sugars. Stack mini chocolate chip cookies for the chimney, spreading frosting between cookies to secure and to attach chimney to roof as shown in photo.

Use

pastry bag fitted with 1/4-inch round tip to pipe frosting in crisscross pattern on both sides of roof as shown in photo; gently press small green and red candies into frosting. Pipe frosting along roof edge, allowing some to drip down bottom edge of roof to resemble icicles. Press mini chocolate sandwich cookies into frosting along edge of roof. Use pastry bag with star tip to attach small gumdrops to top of roof with frosting.

Cut

large green gumdrop in half; decorate with green and red icings to resemble wreaths as shown in photo. Attach 1 wreath to each side of house with icing. Arrange remaining mini peanut butter cookies on cardboard base for a path, adding fish-shaped candies as shown in photo. Let stand 2 to 3 hours or until frosting is dry.
Recipe Tips
Important Notes


Since this recipe uses 23 grahams plus an unopened sleeve of grahams as a support for the roof, you will need to purchase 2 boxes (14.4 oz. each) HONEY MAID Honey Grahams to make this festive house. Each box contains 27 grahams (9 grahams in each of the 3 sleeves). Both empty boxes are needed to make the frame of the house. Also, when making the roof of the house, use cans to help support the grahams on roof until frosting is dry.

How to Easily Cut Grahams and Cookies


Use a serrated knife to easily cut grahams and cookies as needed.

Special Extra


Spread additional frosting into oval shape on cardboard base for a pond; sprinkle with blue colored sugar. Add powdered sugar and miniature marshmallows around house to create a winter scene. Arrange Mini CHIPS AHOY! Chocolate Chip Cookies for stepping stones. Add trees, bushes, snowmen, sled, and/or toboggan if desired. Decorate SOUR PATCH KIDS Soft & Chewy Candies and TEDDY GRAHAM Honey Graham Snacks with icing and small candies as desired. Attach small cut pieces of string licorice for ice skates or cut-up pieces of sugar wafers for skis or snowboards; arrange around house so that they appear to be building a snowman, sledding, snowboarding or skating on the pond.
320927