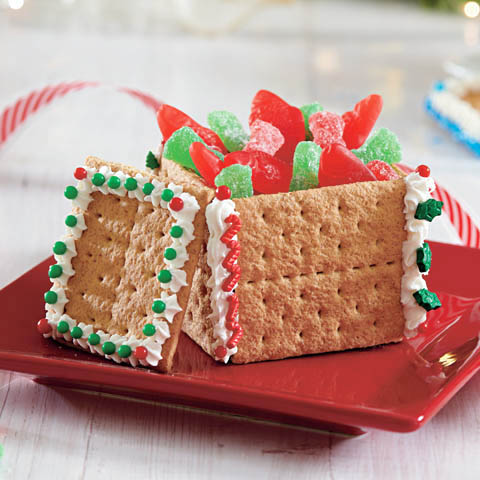 HONEY MAID Holiday Gift Box
Kids will love making or receiving these fun gift boxes made with graham crackers and filled with treats. They also make creative place card holders!
Ingredients
½ cup ready-to-spread white frosting
3 HONEY MAID Honey Grahams, cut crosswise in half (6 squares)
Assorted small candies and sprinkles
12 SWEDISH FISH Soft & Chewy Candies
½ cup SOUR PATCH KIDS Candies
Preparation
Spoon

frosting into pastry bag fitted with small star tip.

Place

1 graham square on parchment-covered baking sheet for base of gift box. Use frosting to stand 4 of the remaining graham squares next to sides of base for sides of box, piping frosting onto both outside and inside of each corner of box to secure.

Let

box stand at room temperature 1 hour or until frosting is firm.

Meanwhile,

use some of the remaining frosting to attach small candies and sprinkles to remaining graham square for lid of box. Place lid next to box on baking sheet; let stand until ready to use.

Transfer

box to small plate. Decorate with remaining frosting and additional small candies as desired. Let stand overnight.

Fill

box with SWEDISH FISH and SOUR PATCH KIDS Candies. Prop lid on, or next to, box.
Recipe Tips
Important Note


Let assembled gift box stand in a safe place where it can sit undisturbed overnight. For added support while frosting is firming up, place small cans next to sides of box.

Special Extra


Tie string licorice into bow; place on lid, securing licorice to lid with some of the remaining frosting.
399089