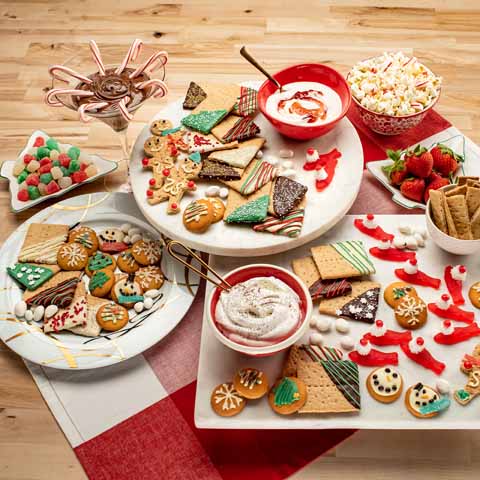 Holiday Cookie Sweet Board
End your Christmas party with a dessert charcuterie board, a festive mix of holiday cookies, candies, dips and other sweet treats.
Servings
Makes 24 servings.
Ingredients
HONEY MAID Honey Grahams, Chocolate Grahams and Cinnamon Grahams
Semi-sweet and white baking chocolates, melted separately
Multi-colored sprinkles, nonpareils and colored sugars
Green and red candy coating wafers, melted
NILLA Wafers
Assorted small candies, licorice, gumdrops, small candy canes and multi-colored sour belts
Miniature marshmallows and white sugar crystals
SWEDISH FISH Soft & Chewy Candies
Thawed frozen whipped topping
Unsweetened cocoa powder
Salted caramel ice cream topping
Chocolate-hazelnut spread
Vanilla low-fat Greek-style yogurt
Strawberry jam or preserves and fresh strawberries
Yogurt-covered raisins and popped popcorn
Preparation
Cut

some grahams crosswise in half to make squares; dip one corner of each square in melted semi-sweet or white chocolate. Decorate as desired with sprinkles, nonpareils, colored sugars and/or small candies. Or, drizzle dipped graham squares with melted green and/or red candy coatings as shown in photo.

Decorate

NILLA Wafers with melted white chocolate, small candies, colored sugars and/or melted candy coatings to resemble snowmen, Christmas trees and/or snowflakes as shown in photo.

Moisten

marshmallows lightly with water; roll in sugar crystals. Attach marshmallows to fish candies with small amount of melted white chocolate; top with small red candies to resemble Santa's hats.

Cut

additional grahams into quarters; set aside to use as dippers. (Or, see Tip for how to make Gingerbread Men Dippers from whole grahams.)

Let

all decorated grahams, NILLA Wafers and other melted candy coating- or melted chocolate-coated ingredients stand at room temperature until coatings and chocolates are firm.

Fill

several small serving bowls with the following ingredients: whipped topping sprinkled with cocoa powder; chocolate-hazelnut spread topped with small candy canes; caramel topping topped with chocolate curls; and/or yogurt topped with a swirl of jam and fresh strawberry. Place all bowls on large board or platter. Fill other serving dishes with raisins, popcorn and decorated fish candies. Add to board. Fill empty spaces on board with decorated grahams and wafers; graham dippers; additional colorful holiday candies; and/or strawberries.

Cookie

boards can be prepared for any number of servings, depending on the size of the gathering. Use a guideline of 1 oz. grahams and wafers, 2 Tbsp. whipped topping or other sweet dips and 1 oz. assorted toppings for each serving. For the 24 servings shown here, you will need a total of 12 oz. EACH grahams and wafers, a total of 3 cups of all the dips and 24 oz. assorted toppings such as candies, chocolate and marshmallows.
Recipe Tips
HONEY MAID Graham Gingerbread Men Dippers


To make gingerbread men dippers from the HONEY MAID Grahams, place 1 whole graham, top side down, on microwaveable plate; cover with dampened paper towel. Microwave on HIGH 20 to 30 sec. or just until graham is softened. Immediately place softened graham, top side up, on cutting board; carefully cut into gingerbread man shape using 1-3/4- to 2-1/4-inch gingerbread man cookie cutter. Repeat, 1 at a time, with additional grahams. Cool completely. Decorate with decorating icings and small candies as desired. Discard any graham trimmings or reserve for another use, such as sprinkling over fruit, ice cream or pudding.



NILLA Wafer Snowmen


Spread NILLA Wafers with melted white chocolate. Add gumdrop pieces to make the snowmen's hats. Cut small pieces of sour candy belts for the scarves, then use kitchen shears to cut short thin strips in both short ends of scarves for the fringe. Decorate with small candies and/or sprinkles for the snowmen's faces.
398079
You May Also Enjoy: