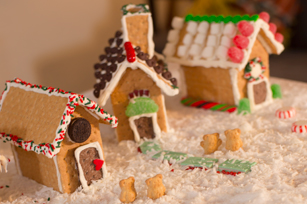 Graham Cracker Village
Ingredients
38 HONEY MAID Honey Grahams
1 tub (16 oz.) ready-to-spread white frosting
1 HONEY MAID Cinnamon Graham
Decorations: Mini OREO Bite Size Cookies, small gumdrops, assorted sprinkles, starlight mints, miniature marshmallows, chocolate chips, candy-coated chocolate pieces, hard candy sticks and small round candies
Preparation
Cut

corners off 10 grahams for the fronts and backs of the 5 houses.

Spoon

frosting into resealable plastic bag. Cut small piece off one bottom corner of bag. For each house, use 1 graham for the floor, 2 whole grahams placed horizontally for the side walls and 2 cut grahams placed vertically for the front and back walls, using some of the frosting to attach all graham pieces together. Use additional frosting to attach 2 grahams to top of each house for the roof. Cut cinnamon graham into pieces and attach to houses for the doors.

Cut

remaining grahams as needed for the chimneys, angling 2 pieces for each chimney and attaching with frosting. Let houses stand at least 3 hours to dry.

Decorate

with remaining ingredients as desired.
Recipe Tips
To Assemble the Village


Place houses on large board. Use assorted candies and gum pieces to add paths around houses. Stand TEDDY GRAHAM Graham Snacks along paths, attaching to board with frosting as needed. Sprinkle flaked coconut onto the board, mounding as desired to resemble snowdrifts. Or, you can use coarse salt or artificial snow (from craft store) in place of coconut.
181376