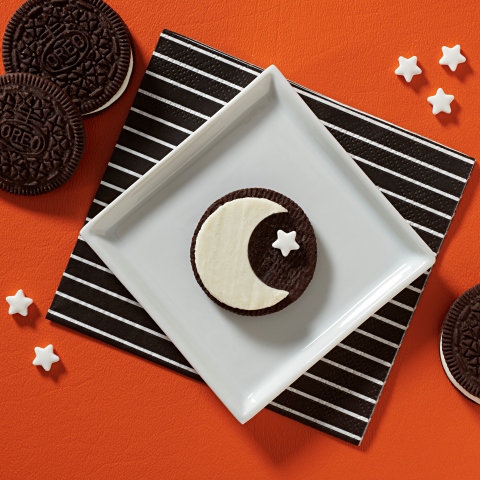 Good Night OREO
Ingredients
2 DOUBLE STUF OREO Cookies
2 small white candy stars
Preparation
Twist

the top and bottom halves of each cookie in opposite directions to separate the cookie halves, leaving all the creme on one half of each cookie.

Carve

the creme into a crescent moon shape using a 1-inch round cookie cutter to cut into and scrape away the excess creme.

Add

the candy stars, using some of the removed creme to secure the stars to the cookies.
Recipe Tips
Hints on Twisting the Cookies Apart


Twist the cookies apart gently in a back-and-forth motion to release one cookie half from the creme.  Or, you can use a small metal spatula to scrape the creme close to one half of the cookie.  Any creme remaining on the plain cookie halves can be spread onto the creme-topped cookie halves.  If desired, you can scrape off and discard any creme smudges with the spatula, skewer or toothpick.

Note


If you don't have a small round cookie cutter, you can instead use a melon baller; the large end of a pastry bag tube; or a small moon-shaped canape or cookie cutter to make the moons.  Or, use a small metal spatula to shape the moons.
429894
You May Also Enjoy: