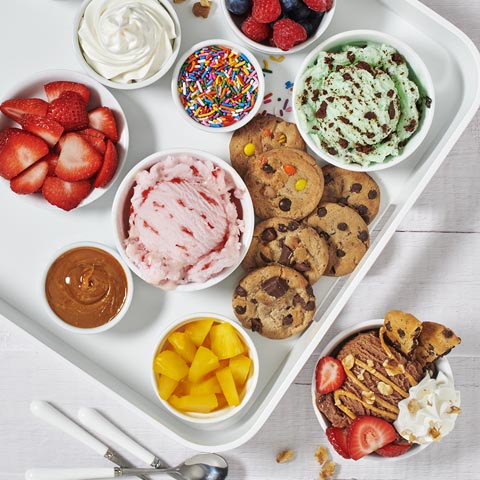 CHIPS AHOY! Fundae Your Way Sundae Bar
Servings
Makes 8 servings.
Ingredients
Chewy CHIPS AHOY! Filled Cookies with HERSHEY'S Fudge, CHIPS AHOY! Cookies with REESE'S Mini Pieces Candy, CHIPS AHOY! Cookies with HERSHEY'S Milk Chocolate and Chewy CHIPS AHOY! Made with REESE'S Cookies
Toppings, such as fruit (blueberries, raspberries, sliced strawberries, pineapple tidbits), chocolate and caramel syrups, natural peanut butter, multi-colored sprinkles and chopped nuts
Thawed frozen whipped topping
Assorted ice cream flavors, such as chocolate, strawberry, vanilla, chocolate chip-mint and salted caramel
Preparation
Arrange

cookies on tray or board. 

Add

small bowls of assorted toppings and whipped topping.

Scoop

ice cream into small serving dishes.  Add to tray.

Let

everyone add their desired cookie to their bowl of ice cream, then add desired topping(s).  

For

8 servings, you will need a total of 8 cookies and 1 qt. (4 cups) of ice cream.  Just remember that 1/2 cup ice cream and 1 cookie is a serving. Having several varieties of fruit available can help satisfy everyone's sweet tooth without over indulging on the toppings.  Adding 1 Tbsp. whipped topping and 1 tsp. syrup or peanut butter, sprinkles or nuts makes a perfect sundae for a special treat.
Recipe Tips
Make it Special




This sundae bar provides an option of flavors and textures by offering several CHIPS AHOY! Cookie varieties and toppings.

Size-Wise


Stay in the moment and focus on what you're eating for a satisfying experience with your individually portioned sundae.

Family Fun


This sundae bar can be a fun family treat to enjoy while watching a movie together or playing games, such as a board game or cards.
423431
You May Also Enjoy: