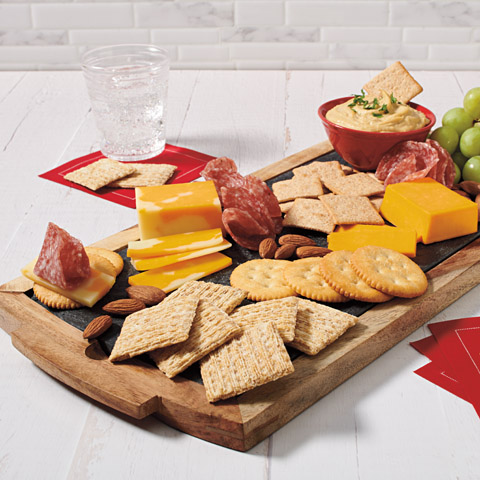 Casual Snack Board
A charcuterie board is the perfect way to feed everyone for any small gathering.  With cheese and cracker choices they'll love, everyone can make their own appetizer.
Servings
Makes 6 servings.
Ingredients
Thinly sliced salami
Colby Jack and cheddar cheese
Traditional or flavored hummus
Seedless green grapes
Whole almonds
RITZ Crackers
TRISCUIT Crackers
WHEAT THINS Original Snacks
Preparation
Arrange

meats and cheeses on large board or platter. Add small bowl of hummus. Fill in spaces with small bunches of grapes and a small handful of nuts. Add crackers and WHEAT THINS.

Cheese

and cracker boards can be prepared for any number of servings. Use a guideline of 1 oz. cheese or 2 Tbsp. hummus, 1/2 oz. meat, a few nuts and 1 oz. of crackers* per person. For a well-balanced board, fill in empty spaces on board with fruit.  For the 6 servings shown here, figure on purchasing 4 oz. of cheese; 2 oz. EACH of hummus and thinly sliced meat; and about 20 almonds. Have plenty of RITZ Crackers, TRISCUIT Crackers and WHEAT THINS Snacks available for guests to choose from along with the fruit.  *Serving size of RITZ Crackers is 1/2 oz.
Recipe Tips
Cheese Tip


For best flavor, let the cheeses sit for about 15 min. at room temperature before serving. If serving a wedge or whole piece of cheese, be sure to place a knife on the board for each variety of cheese you are serving.

Make it Easy


A small cheese board such as this one is a good way to use up those small left-over pieces of cheese or few slices of meat that you already have on hand. Keep it simple.  Mix and match cheeses, meats and dip. Try Brie or Gouda cheese. Depending on your family's preferences, feel free to substitute their favorite fresh fruits and cut-up fresh vegetables for any of the suggested ingredients,
426335